If you ever find yourself self in the Mexican state of Guanajuato, I highly recommend not only the colorful city of San Miguel de Allende but also its two other nearby cities, the state's capital & university town of Guanajuato City & the larger, Leon with its Zona Piel (leather market) & Plaza de Zapatos 👠 (plaza of shoes.)
We have visited this general area on multiple trips to the Festival Internacional del Globo over the last several years. We decided to extend our travel to the event by coming early to check out San Miguel de Allende. As I said before, 3 weeks was not nearly enough time to explore all SMA had to offer, so we did our best on weekends & after Dave's work days to explore as much as possible. (However at the writing of this post, I am seeing there is so much more we missed. Clearly we will have to return and continue to explore.)
San Miquel is a city of quaint patio restaurants, rooftop bars, & stunning sunsets 🌅 Here were a few of our favorites…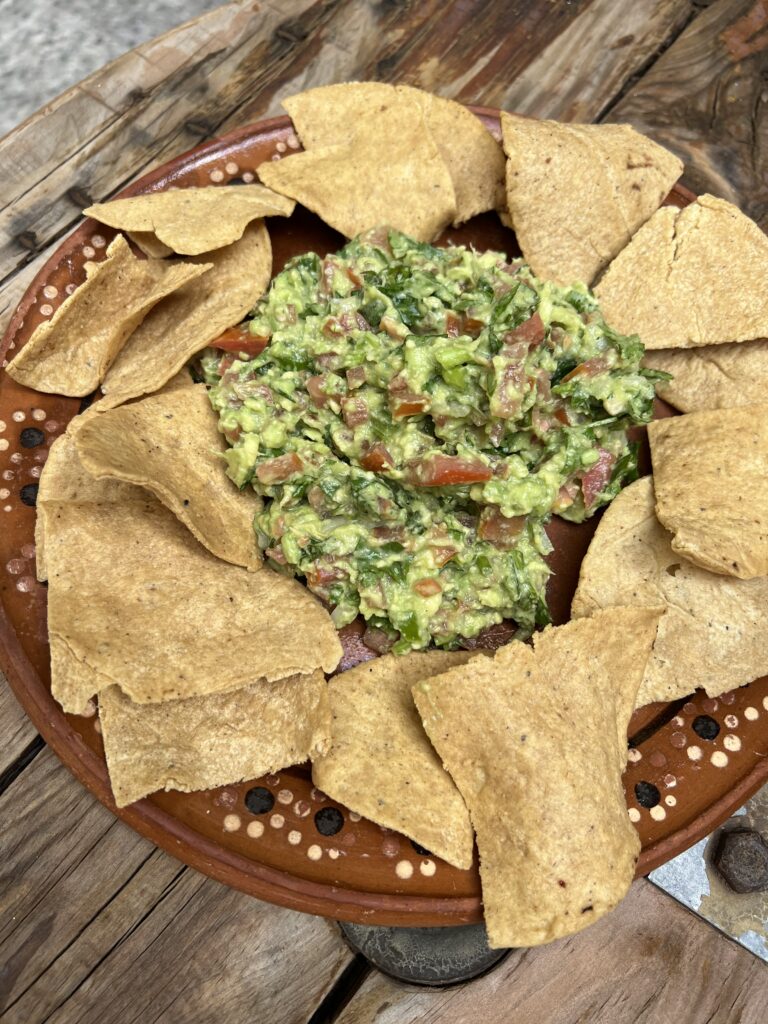 Strolling along the cobblestone streets, we discovered this inviting courtyard cafe, Patio Relox. Sadly, it has some pretty bad Google reviews, mine being one of the only 5 star 🤔 I guess we found them on a good day. The highlight was the best guacamole we would find along our travels.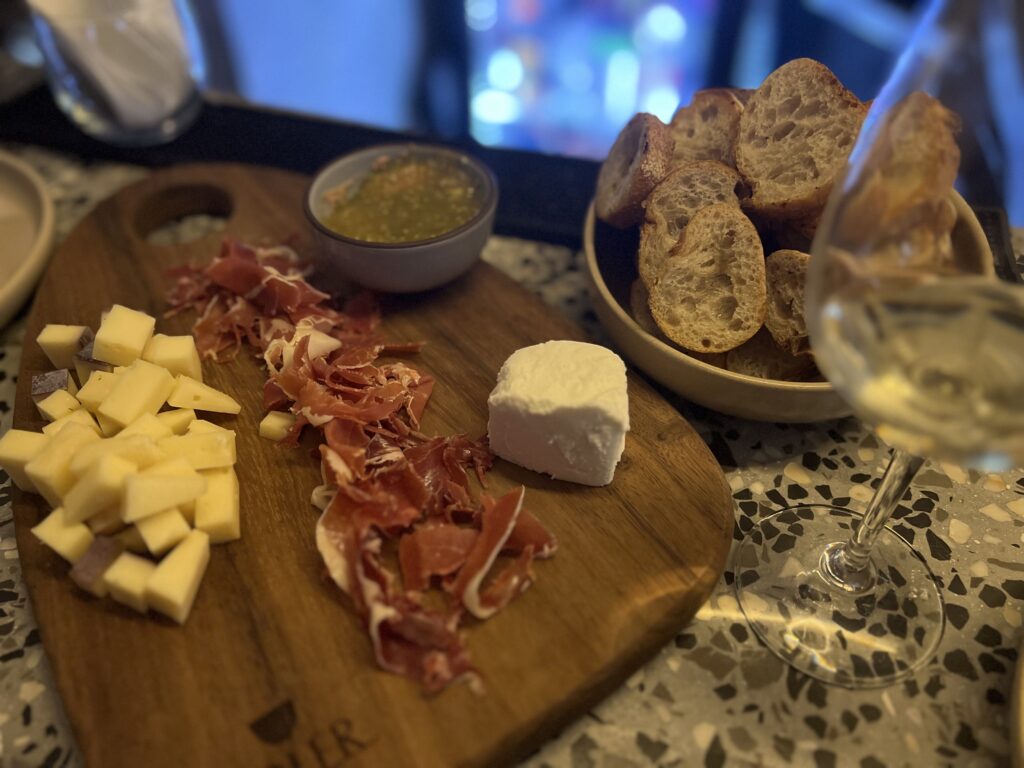 A hard to find, corner wine bar that was totally worth the hunt. Xoler is a tiny spot with just over half a dozen tables. We had no reservation but gladly accepted a couple of spots at the bar. The recommended wines & charcuterie board were plenty to accompany our casual conversation & people watching 👀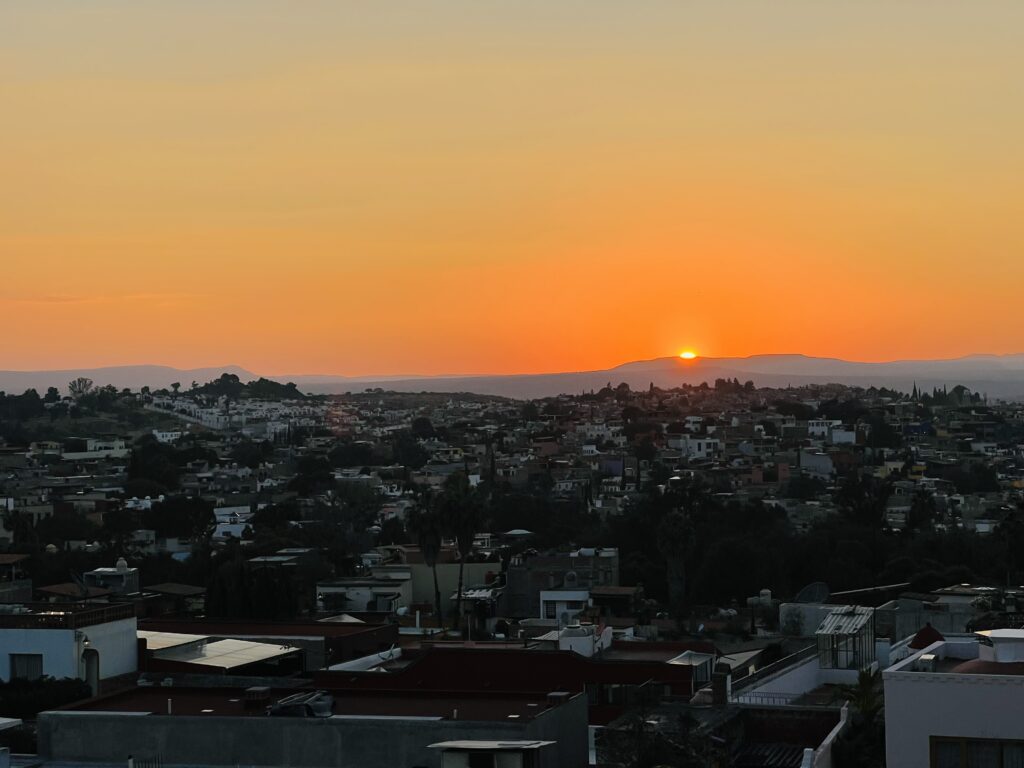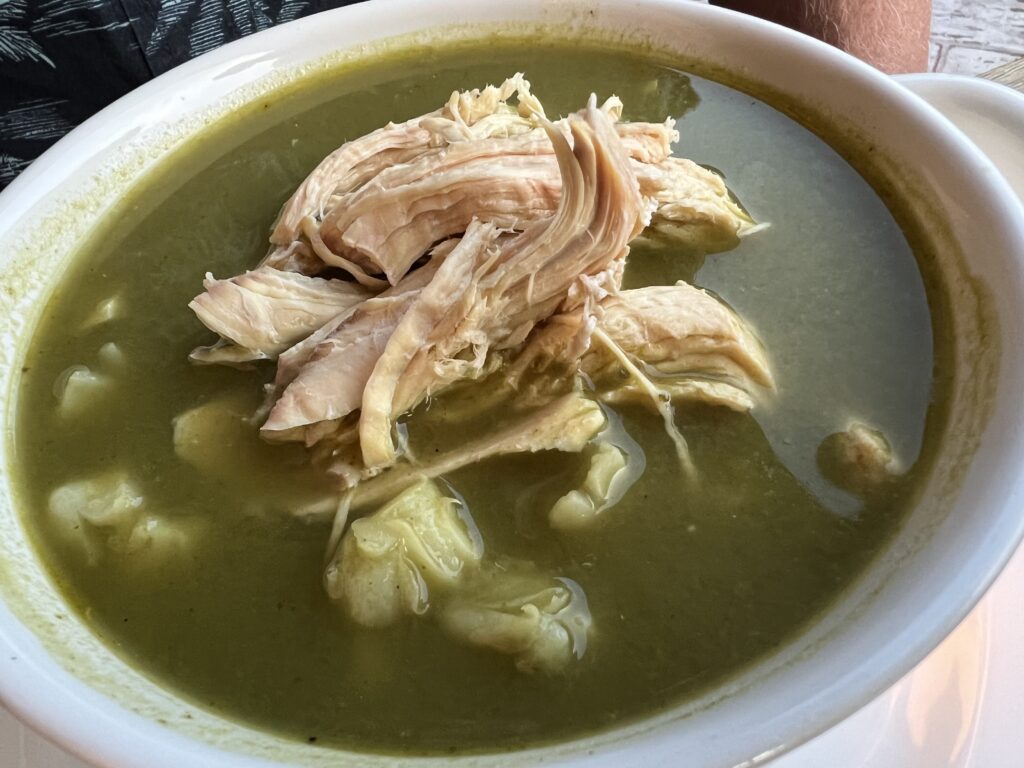 Again, no reservation for two but lucked out with a table on the rooftop patio at sunset on the evening of Halloween, when the city was a bustle 😉 We even got to practice a bit of our Spanish as Dave ordered the highly recommended Pozole Verde. The waiter humored us, then switched to his better English in light of our hesitations 😬 The sunset did not disappoint.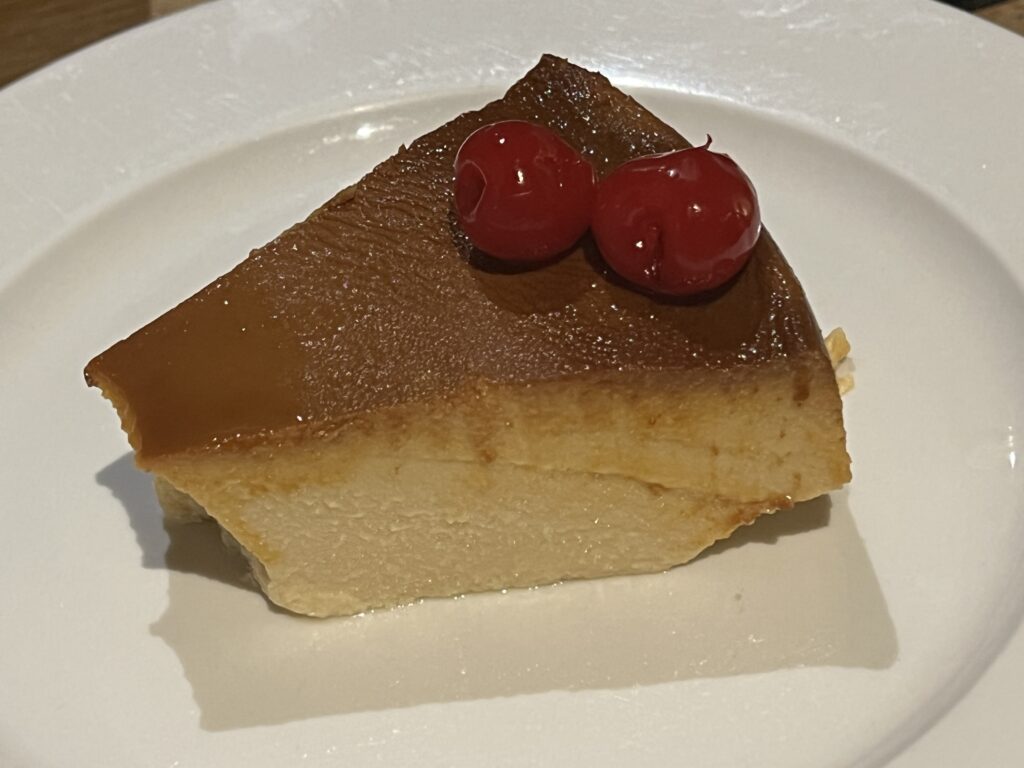 Neither did the Mexican flan, although I do not believe my Cuban stepfather would have approved of the cherries 🍒 but then again, it turns out there is a significant difference between Mexican & Cuban flan 🍮 Having been raised on Cuban flan, I will have to agree that Cuban flan is the best in world (when made correctly 😬)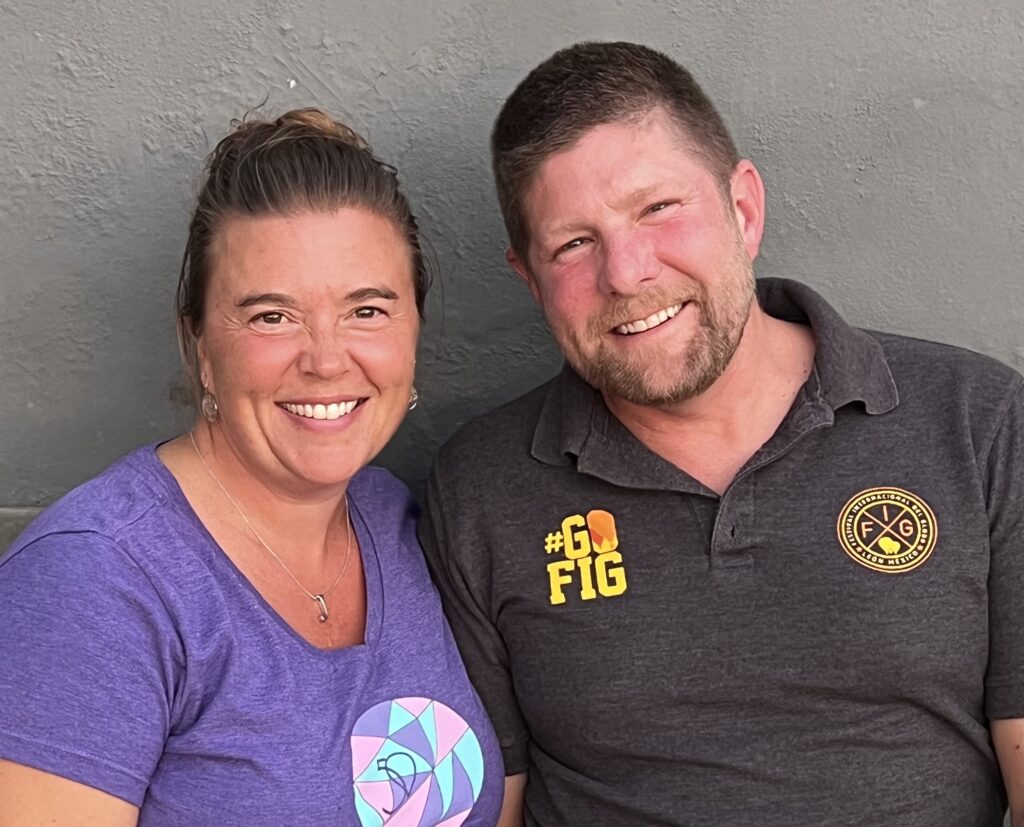 This may have been our most spectacular sunset in San Miguel de Allende, which is why I made (I mean asked 😉) Dave to hike up hill a kilometer or so… for this stunning view (minus of course the radio tower 🤦‍♀️) Once again, without reservations, we were seated on the patio. You might be getting the sense that reservations might be worth considering in SMA. You might also be realizing, we are fly by the seat of our pants renegades 😆 We were graciously allowed a spot on the balcony with the understanding that we could only have drinks or eat quickly, we chose drinks & a lovely conversation with a gentleman from Oregon, who himself was in the tourist industry, clearly at the Terraza 48 to check things out. 🍽️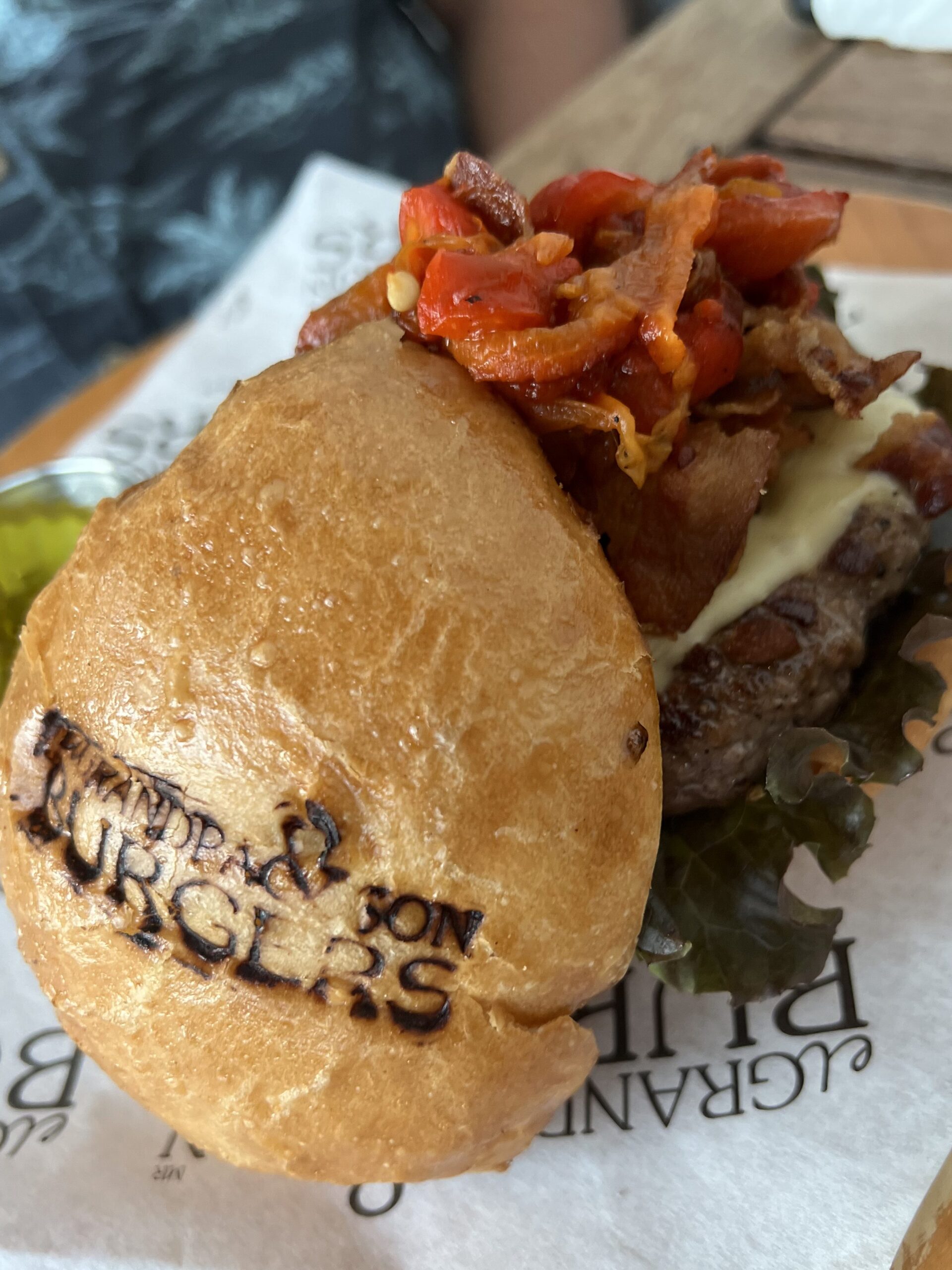 Sometimes you just need a burger. Grandpa & Sons 🍔 fit the bill & was a quick five minute walk from our apartment inside the Fabrica de Aurora (an incredible textile factory turned gallery of galleries 🖼️ ) Chili dogs, mushroom burgers, shrimp 🍤 w/manchego y aguacate 🥑 🤔 We could have eaten here several times & still not tried everything on the menu, but that is true of all SMA, you would need to live in the city for a year to experience all the amazing restaurants.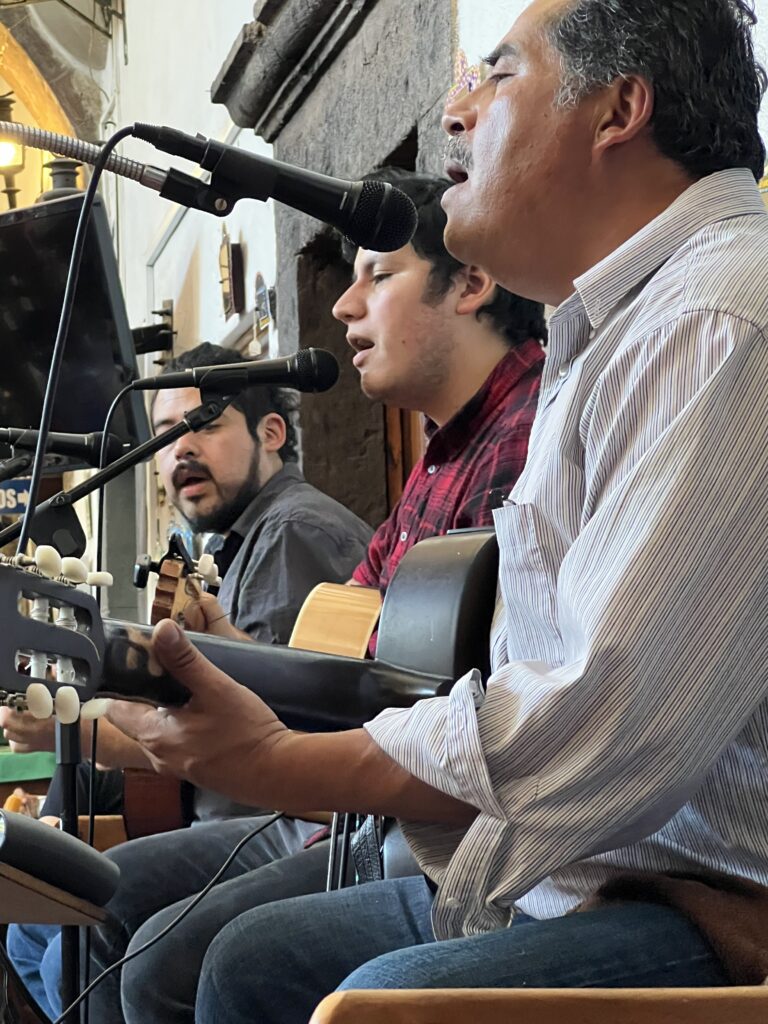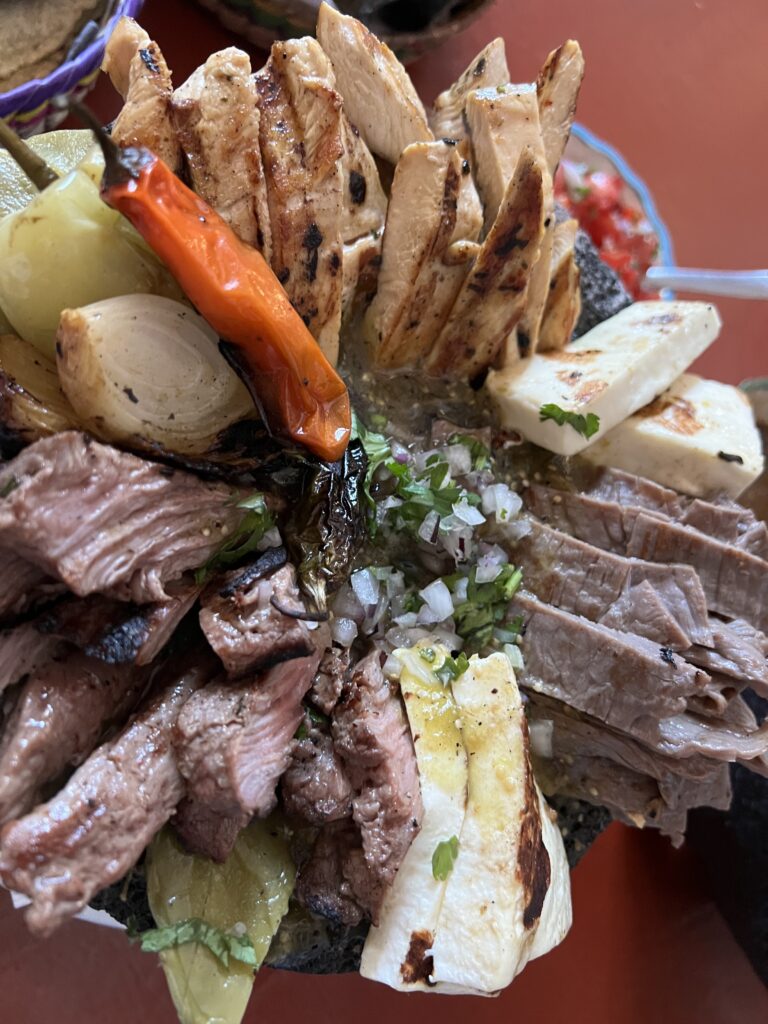 A bit of mixed reviews on this one but we stopped in for the highly recommended molcajete.
Molcajete refers to both the mix & the stone bowl it comes in. The waitress was nice enough to point out when I ordered my own dinner that Dave's molcajete would be more than enough for both of us & it was, even the night after with what we para llavared 😆 We ate at the location nearer our apartment & then later realized there was a second location, they share the same menu & live music but as can see the view from Terraza was quite stunning 🌅 If you ever find yourself here, this is one for which you definitely want to make a reservation.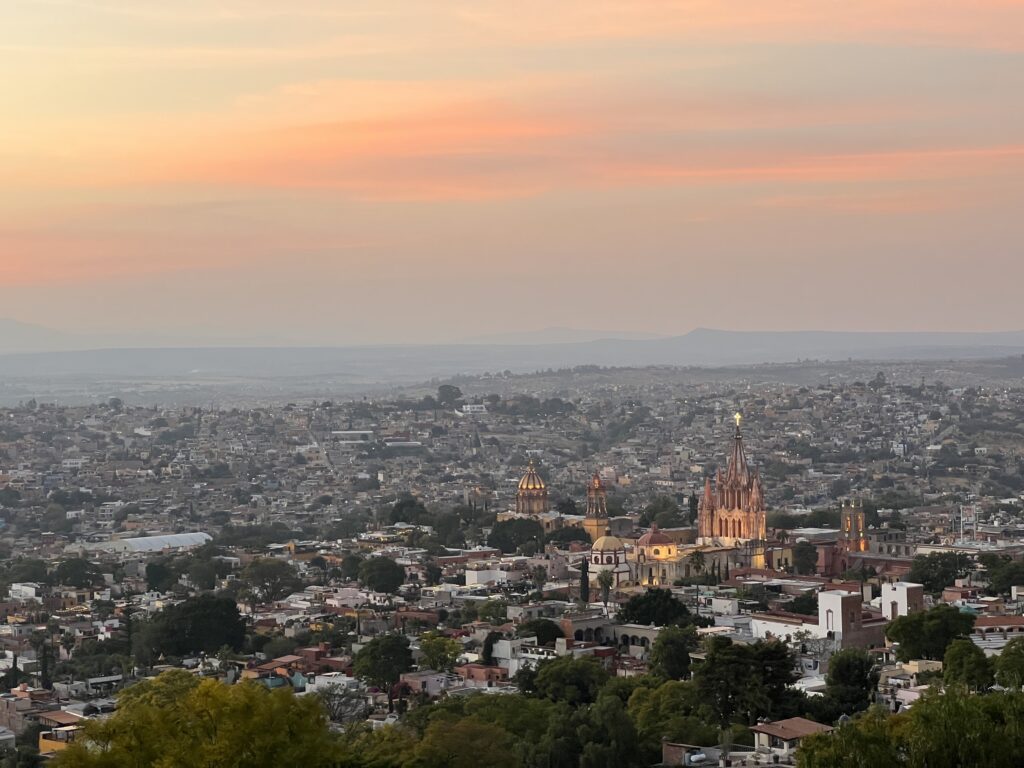 Our last night out on another uphill stroll to capture the sunset & soak up the last of San Miguel de Allende, we happened across, quite possibly our best meal of the entire adventure. La Parada, a Peruvian restaurant inconspicuously located about a block off the Parque Benito Juarez.
Around every corner, between every eatery, along every route, there was a continual feast, this time for the eyes. Street art, gallery art, interactive art 🖼️ It took twice as long to get anywhere just because one had to stop & admire along the way.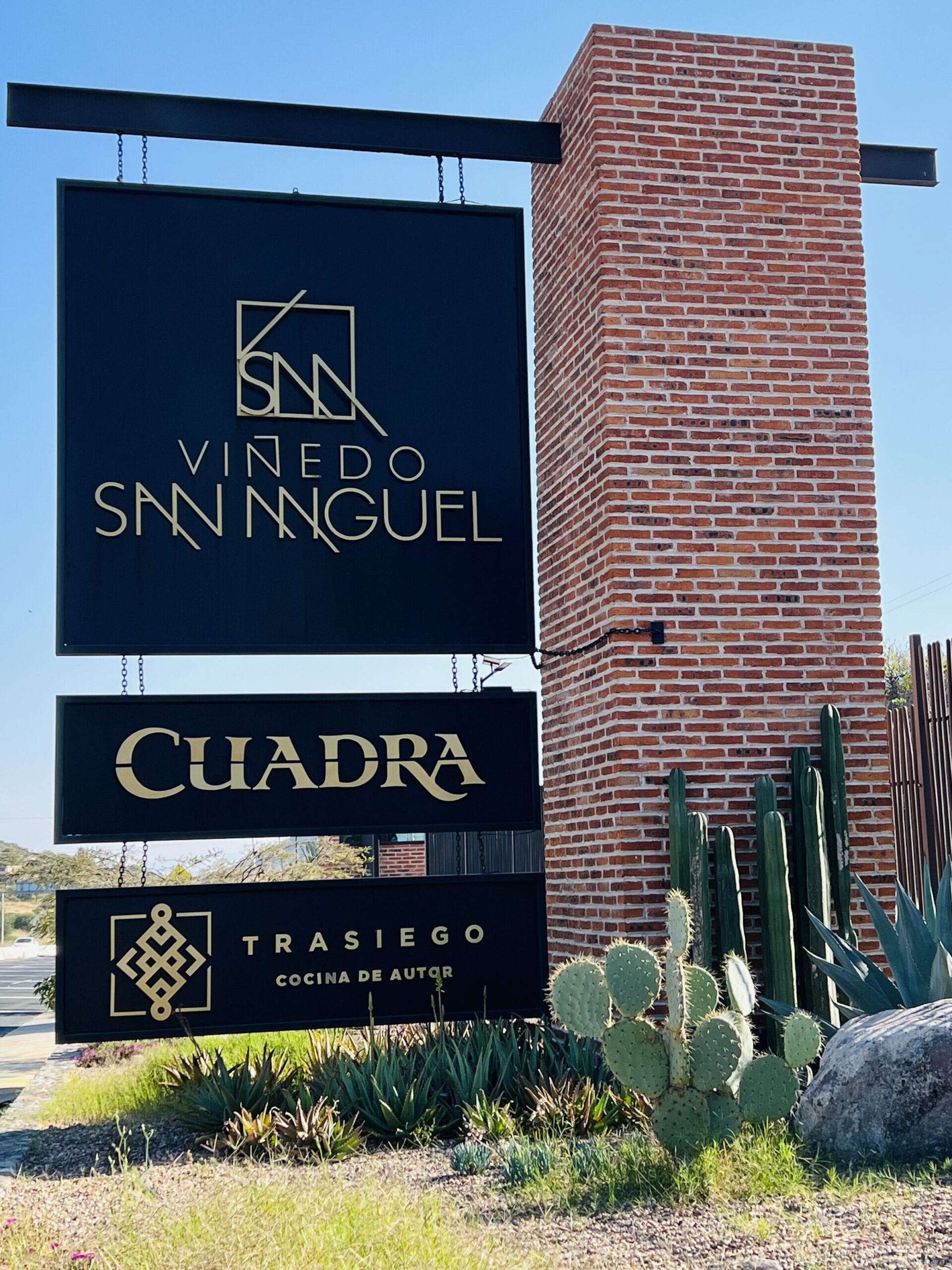 To combine it all we made a stop slightly south of town at the Viñedo San Miguel, where they have created a beautiful gallery & tasting room within their winery & production facility 🍇 After a short tour of their dormant fields & lonely fermentation room (sadly, we were a few months late to see anyone at work) we enjoyed a delicious food pairing with several of their signature wines. It was a great lesson in changing flavors & highlighting notes 🍷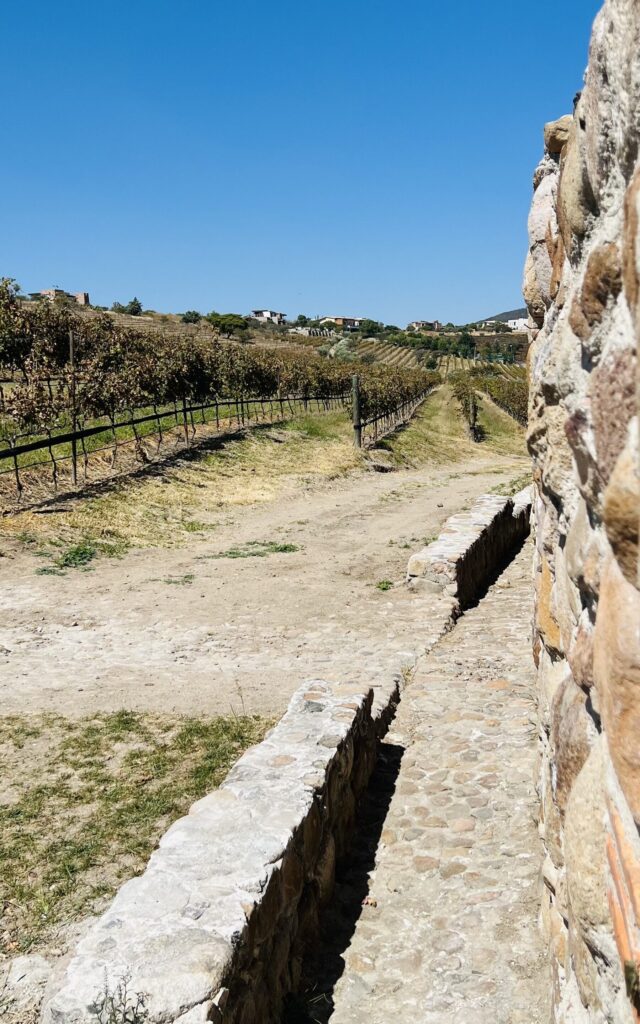 It would be a good distraction to keep our minds off the ever changing INM process & the sudden & unofficial announcement that all previously scheduled appointments would be cancelled, effective immediately. Up next… the first of several adventure dramas. If you have made it with us this far, thanks for stickin' around as you may have also noticed I haven't posted in the last 2 weeks due to other drama that found us further down the path, but alas we will get to that too 😬💜