We saved the best for last! Our last few weekends in Mexico turned out to be a highlight of the whole six month adventure. It didn't hurt that my birthday was also in the mix 🎂
I think I can easily say, Cozumel is worth a return trip. Not only is it home to some of the best scuba diving 🤿 in the world, it remains a slightly sleeping island off the coast of the party town Place del Carmen 🏖️
Upon returning to Akumal, I found the most wonderful little in-home restaurant. Probadita's serves two meals a day, brunch & dinner. By reservation only.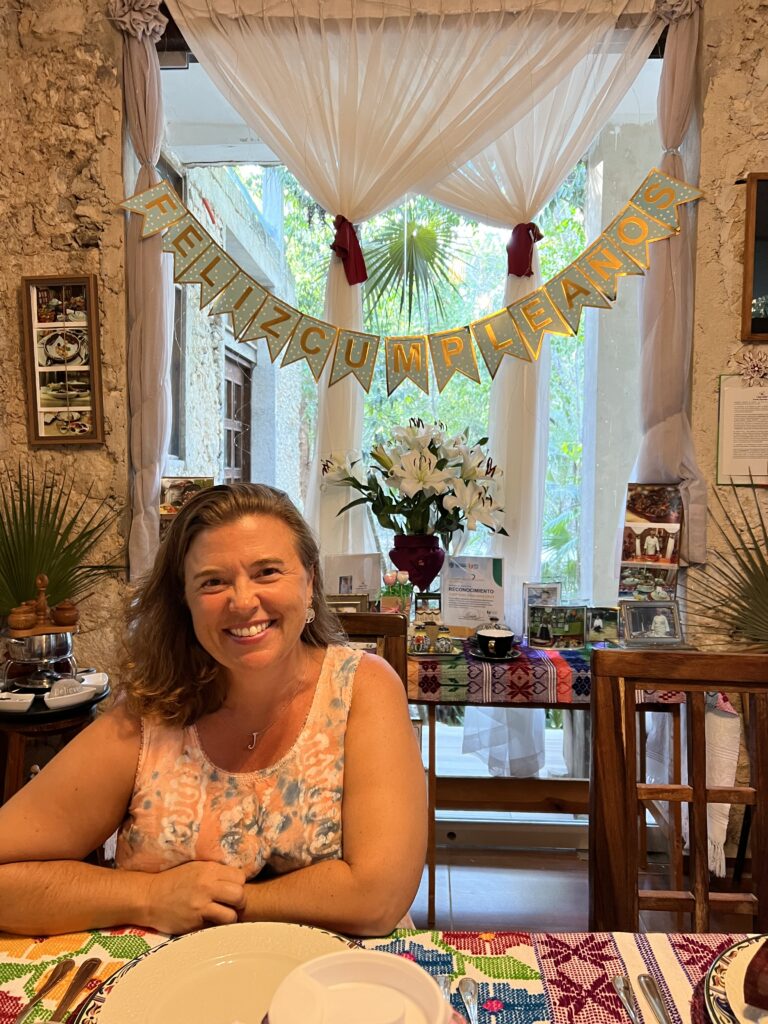 How do I find these places you might be asking… I open Google maps 🗺️ & search RESTAURANTS.  Rarely does anything under a 4.5 get a look 👀   I read the newest reviews, a couple of 5s, a couple of 1s & a few in the middle. I disregard the irrelevant, like "they wouldn't give me the seat I wanted" or "there was a large group that was really loud." I want to know how was the food & service 🍽️ I can also put up with subpar service for great food 🙄  For Probadita's 110  5🌟 reviews was an easy choice! I messaged her through WhatsApp (our go to international texting platform) We made a reservation for my birthday 🎂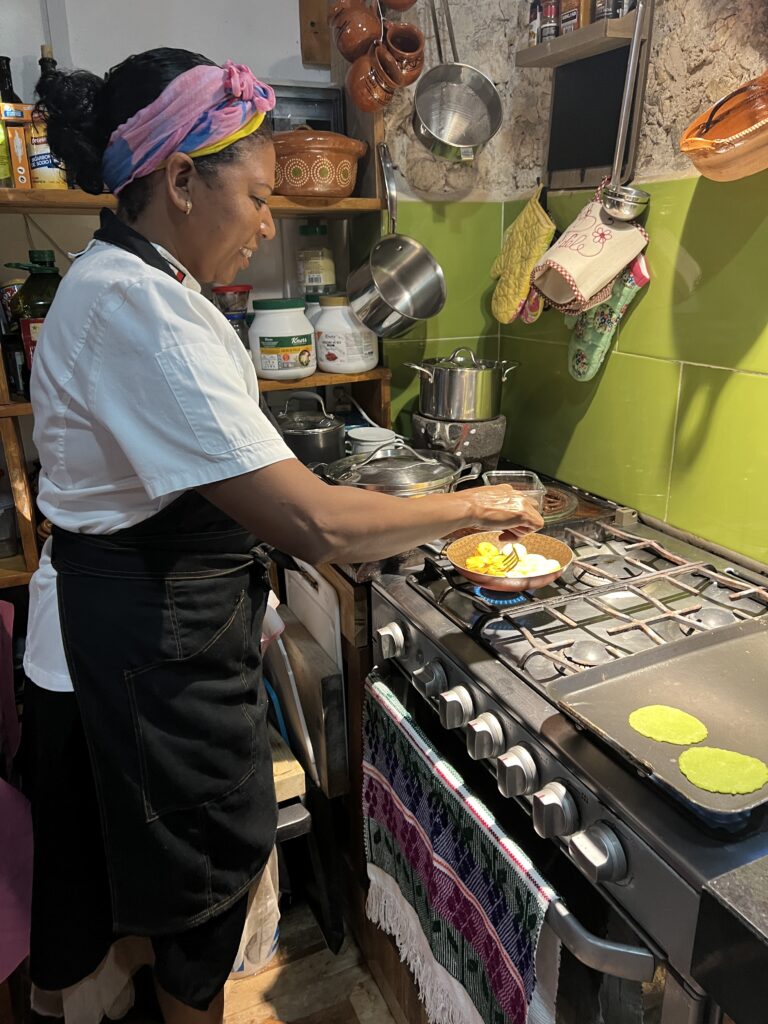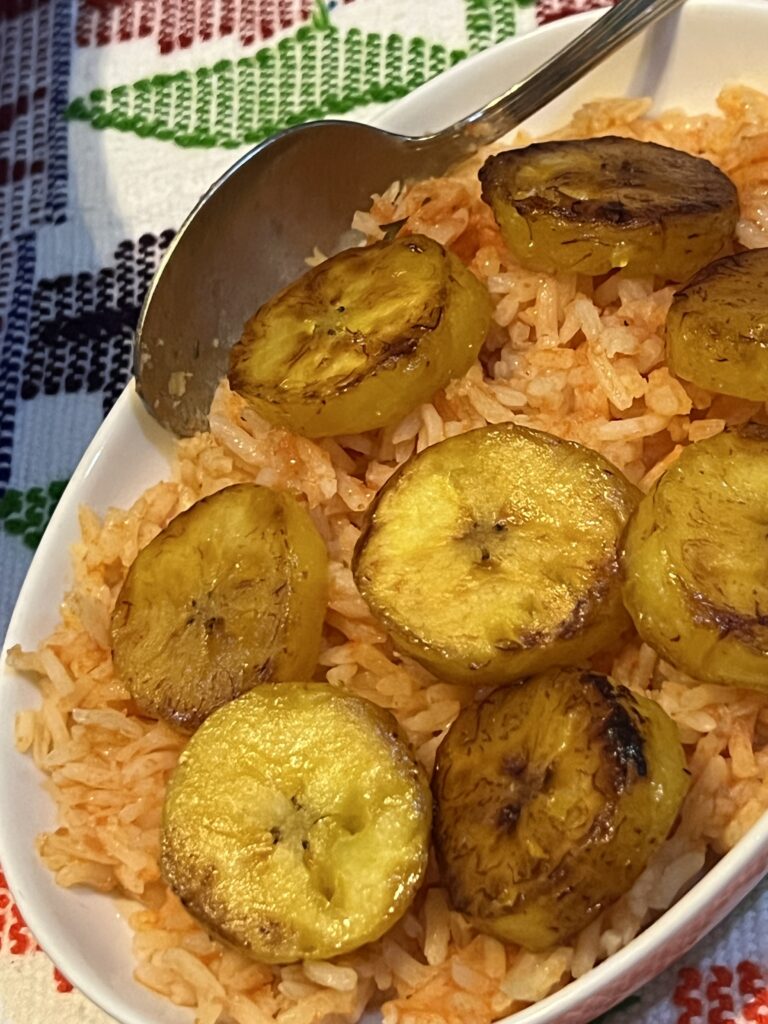 It was an absolute delight! Chef Adel, the owner of Probadita, Spanish for Taste, has been an executive chef at multiple high end resorts & restaurants throughout Mexico & Miami. Chef Adel went above & beyond, even decorating with balloons 🎈 & making an amazing cheesecake 🎂 She showed me how to make tortillas 🌽 We had lovely conversations in English & Spanish about our families & travels 🌎 She made a five course meal with fresh & local ingredients as we laughed & chatted & enjoyed 😊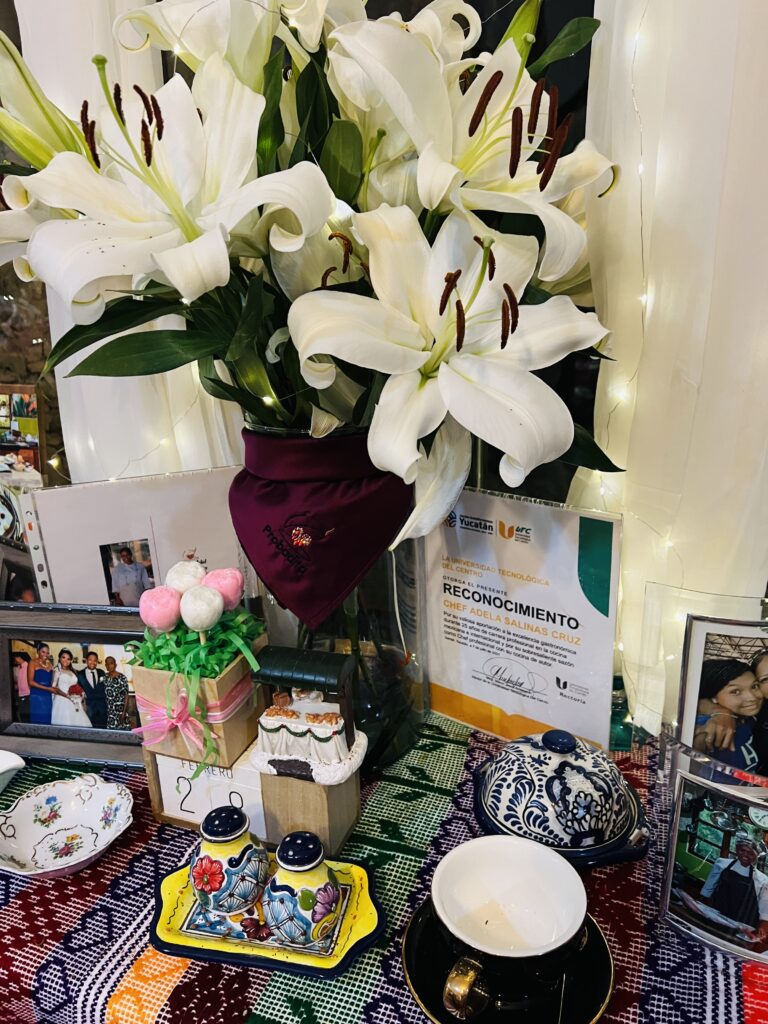 If you are ever in the area of Akumal or Tulum, you must give this place a try. You will not be disappointed! You can easily find Adel & Probadita's on Facebook to make your own reservations. My only regret is that we didn't have time to make a brunch plans at this wonderful hidden gem 💎
But truly the most spectacularly unexpected spot was Bacalar. Bacalar is a rare undiscovered treasure . This will likely change in the very near future with the opening of the Tulum airport making it much more accessible as it cuts the travel in half, from 4hrs from the Cancun Airport to only 2 😬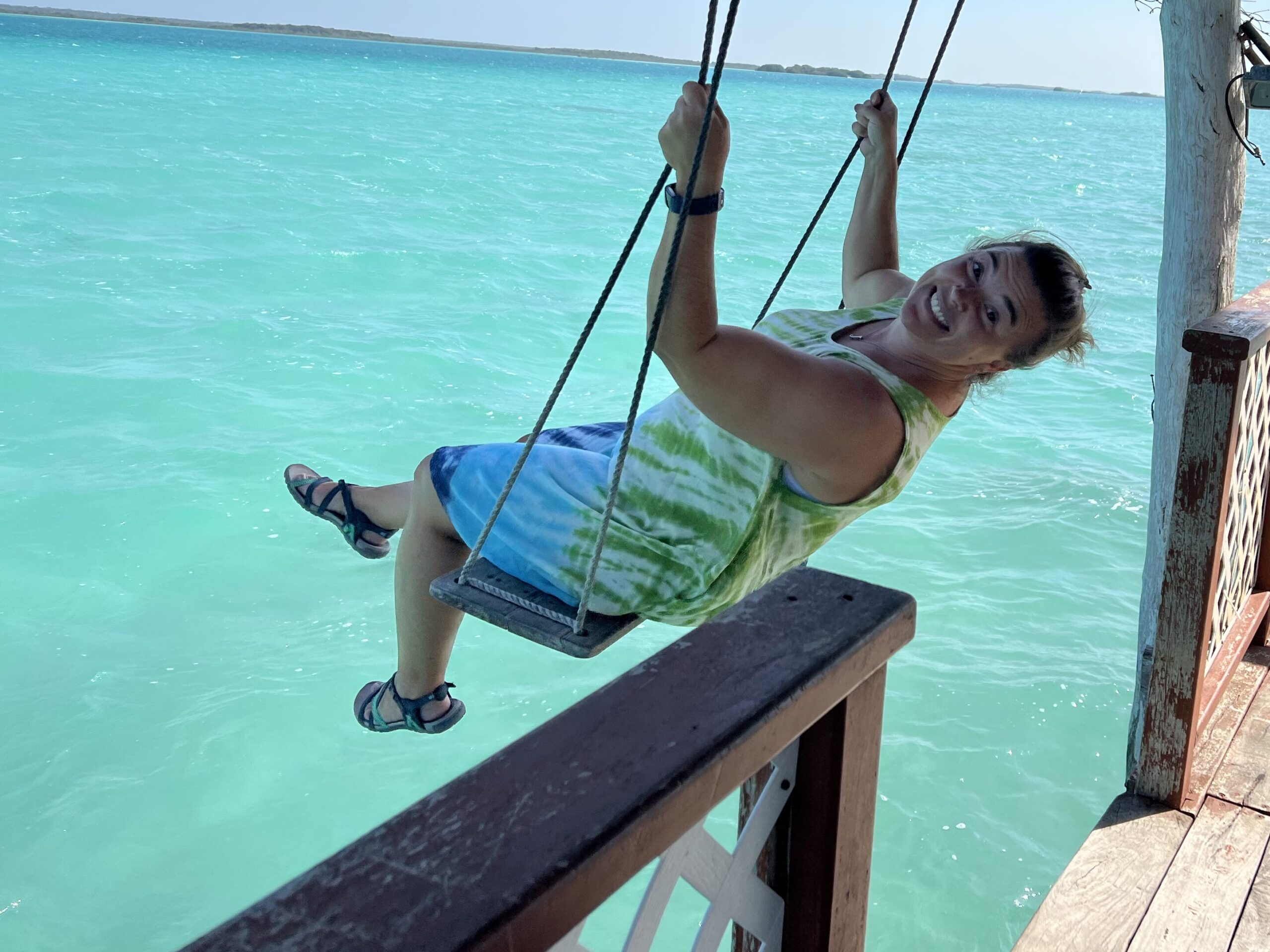 The quiet little town is known for its lake of seven colors. The fresh water lake boasts sandy floors & two cenotes, near the inland coast side.  We hired a sailboat ⛵️ for the morning & sailed around to the highlights, one of which is a protected bird sanctuary, the Isla de Pájaros. Spoonbills, Ibisis & Spatulas make this island their home. The Ibisis' were very common, but you had to watch patiently to catch a glimpse of the more shy Roseate Spoonbill, which similar to the Flamingo eats krill & is therefore pink 😊 If we had been staying longer or when we go back in the future, I would rent a kayak or paddle board instead. The lake is large but very navigable & deserves a much slower pace.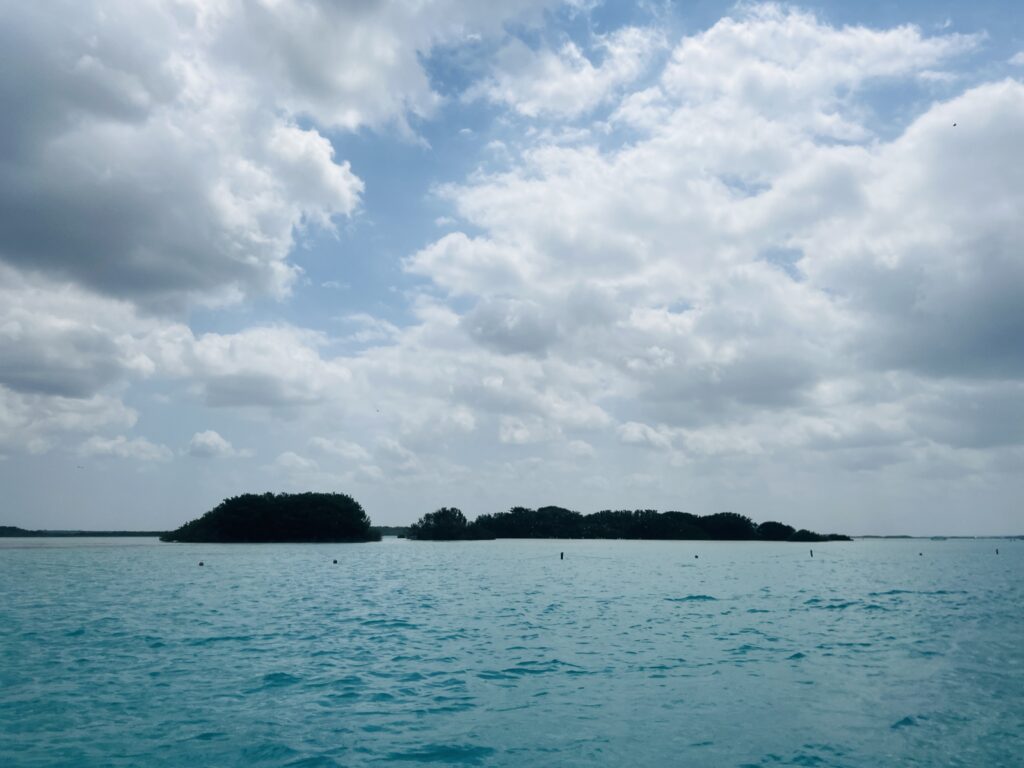 Bacalar is also the only near coastal town to have a fort, Fuerte de San Felipe de Bacalar. Long ago, pirates dropped anchor in the Bay of Chetumal & made their way through a myriad of lakes & marshes to Bacalar Lagoon to pillage & plunder as they were wont to do.  🏴‍☠️ 
We took in the scenery & culture at every turn. Dave discovered a sweet treat & may be considering opening a side biz back in the States. The Marquesita is a freshly made crepe/waffle cone taste sensation, filled with your choices of cheese, chocolates & fresh fruit. Marquesitas were a messy & delicious find 😋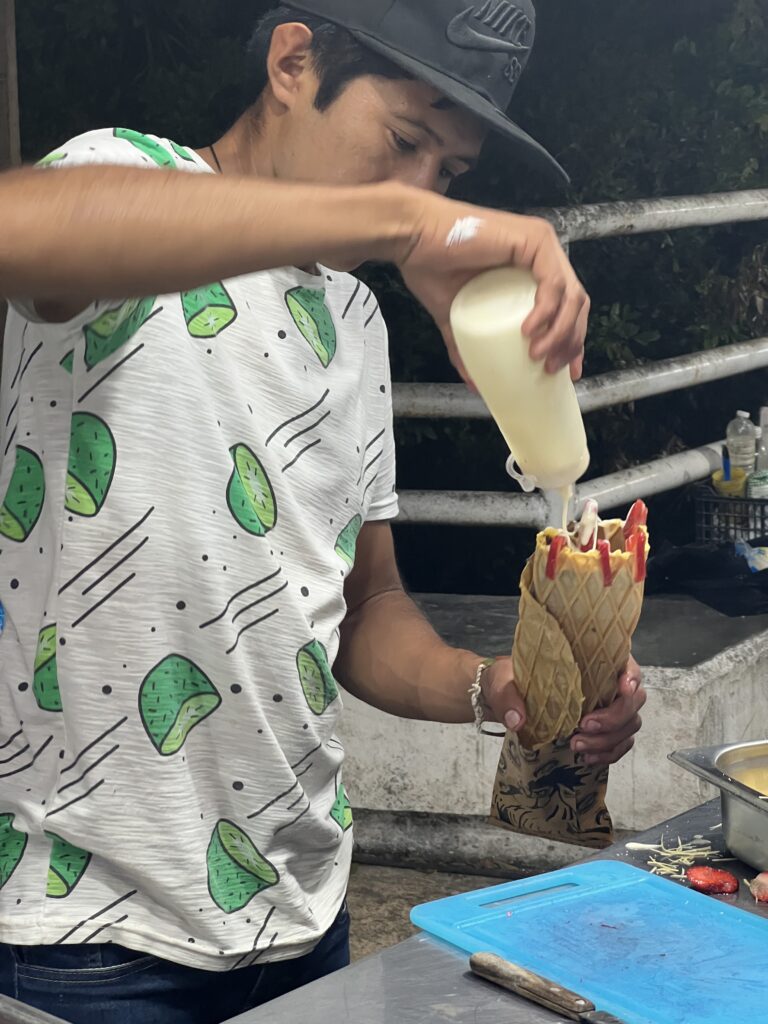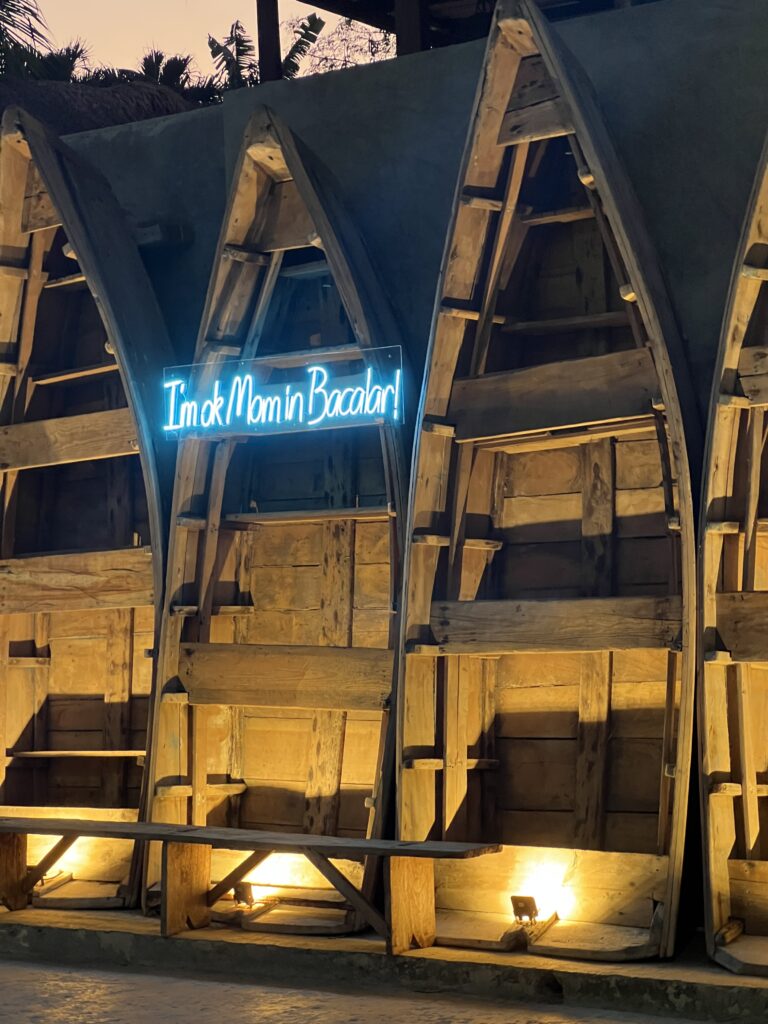 It was suggested we check out a local venue for an evening of live music. We had every intention of an early night in & then we made friends. We headed out to La Catrina to enjoy a few cocktails & salsa music. The place was near empty when we arrived early but quickly filled to keep the bar tenders busy. At first we were alone at our tall bar table, but as the place began to fill we made room for others, as again it was our intention to leave soon. I came back to our table from the loo to find Dave chatting with a young fellow. Apparently, he too had gone to NMSU at some point & lived in NM & CO in his youth. We chatted a minute & then offered them our table as we paid our bill. But a connection was made & there were still drinks to be had & as we would come to find out the dance floor awaited 💃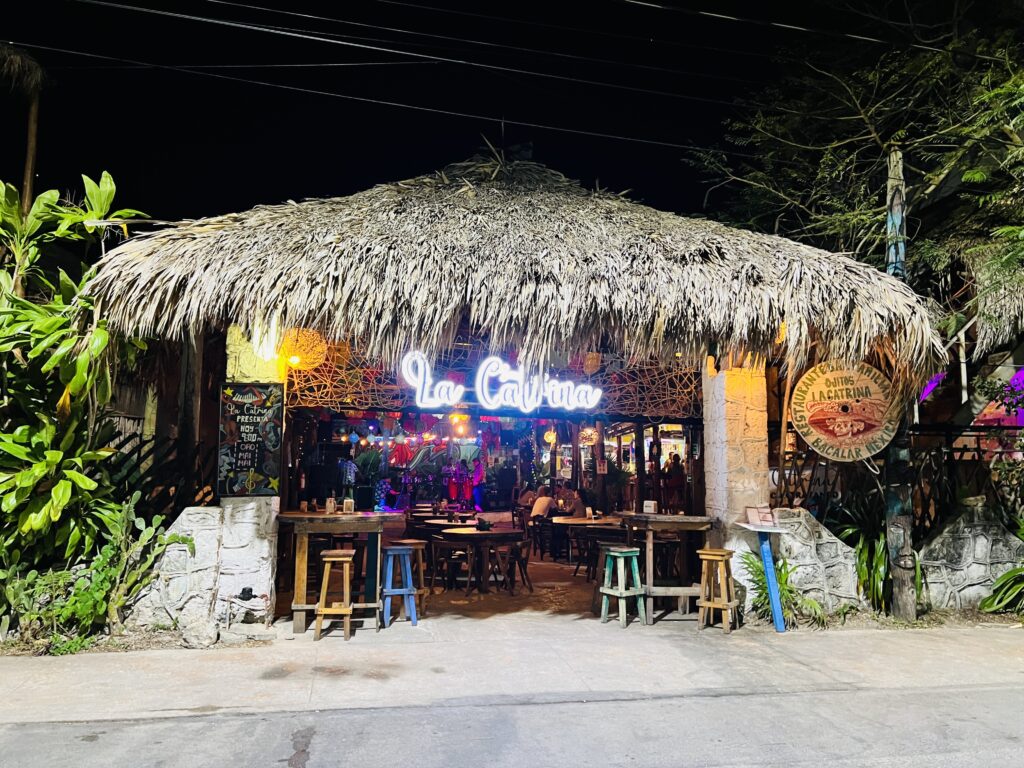 Sadly, I do not remember his name, only that he now lives in Santiago, MX. We drank & danced into the wee hours of the night, closing down the place. Once again, we tried to call it a night, but alas we walked through the quiet, sleepy streets in search of the next gathering & ice cream 🍨 It was nearing 3am, our friend had disappeared into the crowd & we decided it was indeed time for the Irish goodbye. 
We walked back to our hotel, recounted the night, our entire time in Mexico, the amazing people we had met & all the places that deserved a return. Mexico is a part of our hearts ❤️ now more than ever. Bacalar, Cozumel, Progreso, Merida, Leon, San Miguel de Allende all have so much more to explore! 
This was a most wonderful experience & I truly long for another extended time in this beautiful country, with is beautiful food & even more beautiful people 🇲🇽