I have recently signed up as an Amazon Associate. As an Amazon Associate I may earn $$$ from qualifying purchases when you click the links below. 😊
Somewhere along the way, we seemed to regain our composure. Perhaps it was being back on schedule, returning to our original plan & heading back to the coast, or just knowing our time in MX was coming to an end.  The British douchebag nightmare was behind us, our rental car agreement was renegotiated for no extra cost, we had taken a break from each other to spend time with friends coming to MX, and we had a real feeling of resolution to let the past be the past; funny stories to tell but not on which to dwell. 
Whatever the reasoning, we doubled down on the next six weeks to rediscover why we love Mexico 🇲🇽 so much, even being surprised by a couple of places to which we will have to return.
Here are a few things we learned along the way about packing, travel planning & how long one can leave a towel on a longe chair in reserve before others get annoyed 😉
Resort life etiquette learning: It is common practice to get up early & head out to the pool or beach & save your seat. A saved seat with a mere pile of pool towels appears to be a sacred totem of temporary ownership. It is easy to hem & haw when you decide to push the snooze button, after all, you are likely there on vacation why do you have an alarm set anyway, oh right to save a chair!  Sadly if you do not hop to, you may have missed the ultimate four-post cushioned bed lounger or, depending on occupancy, the simplest of reclining chairs.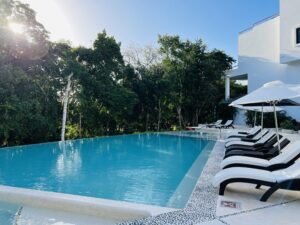 It was one such day at our place in Akumal that I began to wonder, "How long is too long?" The pool was empty of people & almost every chair was unclaimed, except for 2… Yes, I had come out early & "reserved" my seat before heading out for a walk.
I returned to the pool an hour or so later, within what seemed to be okay time limits of my towel placement 🤔 The once empty chairs now filling with residents. As you may notice in the picture, some chairs have cushions, others do not. I settled in to my "reserved" chair with a cushion. The other two "reserved" chairs remained empty for some time, enough time that there began to be chatter among the more long-term residents. Another hour passed & someone in an un-cushioned chair said, "Long enough!" He went over to the "reserved" seat & took the cushion, not in complete defiance of the towel, but it was becoming clear that there was in fact a "too long." Another hour passed & another. The pool was now fully abustle in the afternoon hours. A couple arrived to find all the seats occupied, well all but two, the two with the towels. It did not take much prompting from the peanut gallery of residents to also declare, "Long enough!" The towels were moved, the newcomers sat & order was renewed. Another hour later, 2 ladies arrived at the pool, looking somewhat bewildered & confused 😕 Neither made a scene or even a comment, which let's not lie, was a bit of a bummer 😂 but rather they found their towels & laid them out in the grass & the day continued as if nothing had happened.
Learning has been our baseline. We are never quite sure what we are doing or how it is going to turn out. I usually learn best in hindsight 🤦‍♀️ But as I have mentioned before, we just can't do everything. Turns out I also can not pack everything I "think" I "might" need, but here is a list of a few things I have decided I will not go without…
No doubt this is not an exhaustive list. When we are traveling in the truck, the stuff expands to fill the space 😬 much to Dave's chagrin. I have been able to work it down to 2 checked bags, 2 under seat carry-ons & 2 overhead carry-on bags (that sometimes get checked but I don't pay for) when we fly ✈️ We will be headed back to Mexico 🇲🇽 in the fall, I wonder if I could manage with less 🤔 Probably, but why chance it 😉
For more Amazon yeahs & nays, you can check out my profile there for good & not so good (bad) reviews 😊