🇲🇽 I went back & forth a dozen times trying to decide from where to continue… from the beginning? May? Our first destination, Pagosa Springs? I even began to confuse myself, so after much "choice paralysis" I am just going to start where we are, or close to it… Our Mexican arrival 🇲🇽
We left ABQ, NM on Oct 22 for BJX, Guanajuato, MEX. I have to say, we felt pretty proud of ourselves, having packed all our necessities & then some into our allotted bags. Unfortunately, we may have been a bit too focused on the physical stuff to remember to check a few key items we failed to attend to. 🤦🏼‍♀️
We arrived at the airport & realized neither of us had TSA pre-check, which is part of our Global Entry. If you travel out of the US at least once a year, like we do, Global Entry is a game changer! $100 for 5 years & way less lines ✈️ GE gives additional international advantages over the $78 TSA pre-check only or the $50 Nexus 🇨🇦 & Sentri 🇲🇽 We had, in fact logged our numbers with our airline but failed to notice the error when we checked into our flight the day before. This would be the first of our ridiculous rookie mistakes. 🤷🏼‍♀️ Note to self, double check all our carrier sites for our correct & logged known traveler number! But better to have made the mistake on the front end where we only had to stand in line with the regular people through security versus on our way home when we will skip the very long passport reentry queue.
On we went, ABQ, DFW, BJX. Not one, but three opportunities to buy 🇲🇽 pesos & we didn't. Why, because we are fools 😬 Thankfully, the first few places we encountered took credit cards, which allowed us to have dinner & buy coffee ☕️ for the morning 🌤️ Rookie mistake #2. Couple this with rookie mistake #3 & you will begin to wonder how any of this works out for us 🙄 Any guesses??? We brought one debit card, for an ancillary bank account we have (& don't generally use as an atm) that also expired a month after we got here, IDIOTS!
Dave & I like to consider ourselves to be lifelong learners. Sure we read books & watch documentaries, but more times than not, our biggest lessons come from our mistakes. We are both really good at over complicating the simple & completely overlooking the potentially more important. I'll get back to that when I write about why & how we ended up as temporary Mexicans 🪅
Needless to say, we made it…

Our first stop was San Miguel de Allende, a town made popular by American GIs in the 50's & 60's who came here for post service education on the GI bill. San Miguel has one of the largest ExPat communities in Mexico. San Miguel is where we would spend the next month settling into this life, enjoying its spectacular beauty & experiencing some unforeseen upheavals.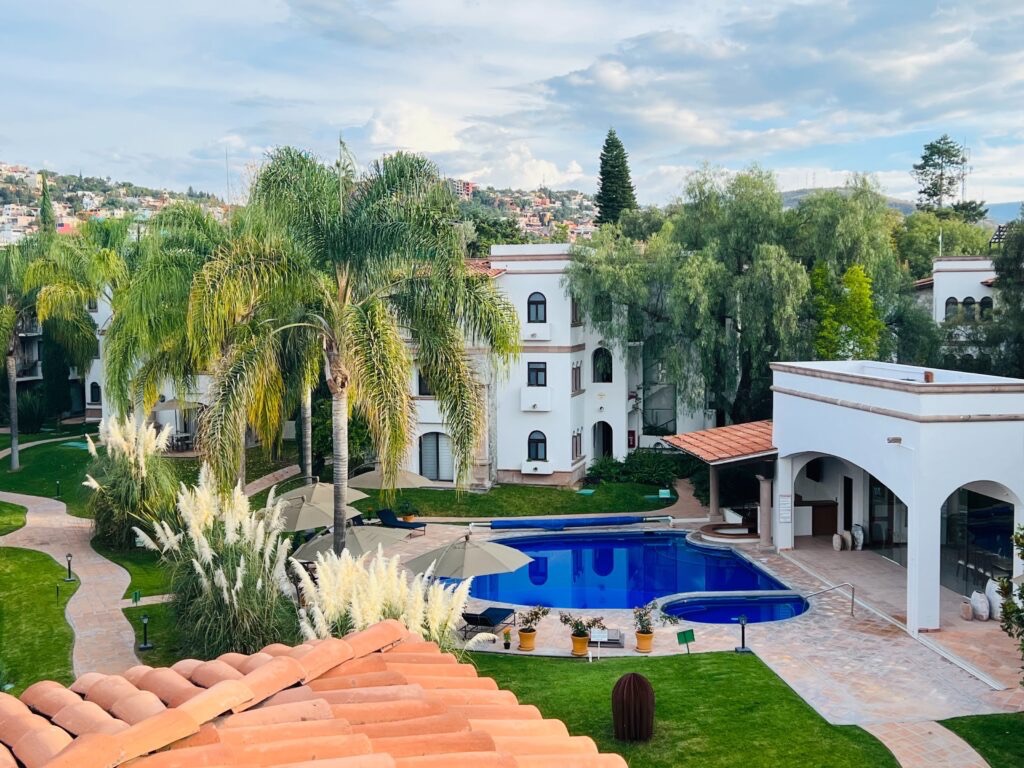 We have learned along the way that there are a few amenities we will not forego… Air conditioning, swimming pool & washer/dryer, so far in that order 😆 Good internet is always a top priority since Dave is still working his remote 9-5 with Formstack.

You might be asking, what do I do during all this time? I'm still keeping up on our finances, as this adventure does have a budget 😉 This adventure also has a plan, its loose most days but has about half a dozen firm destinations over our time here.
Our initial plan was to be in SMA a few weeks before the FIG Balloon rally in León then head on to Merída in the Yucatán for Thanksgiving through Christmas with an eventual longterm landing along the east coast, Playa del Carmen, Akumal & Tulum 🏝 And that all sounded really good until we figured out what was about to happen around our visa & temporary residency process… best laid plans meets bureaucracy.