I love my mother, so it makes me sad that I worry her so, but worry her I do & apparently a few other ladies in her over 55 community 😜 There has been more than one conversation that has begun with, "mom, we are okay!" She knows that means there is a fun story to come 🤷‍♀️ Or not so fun, as she would see it.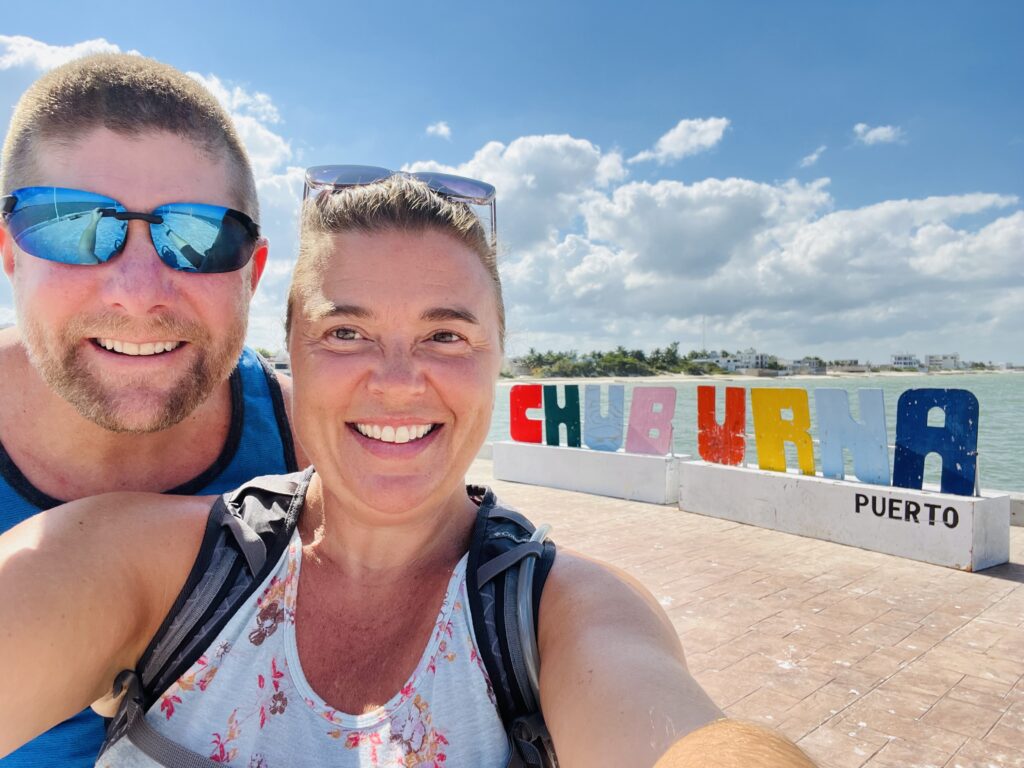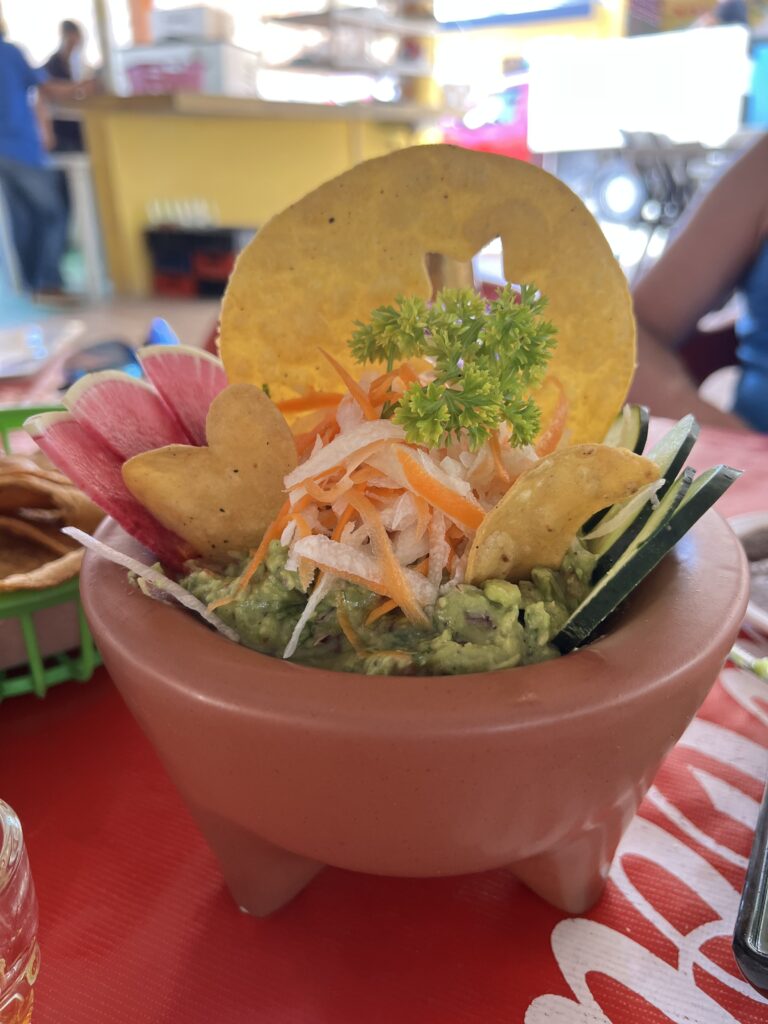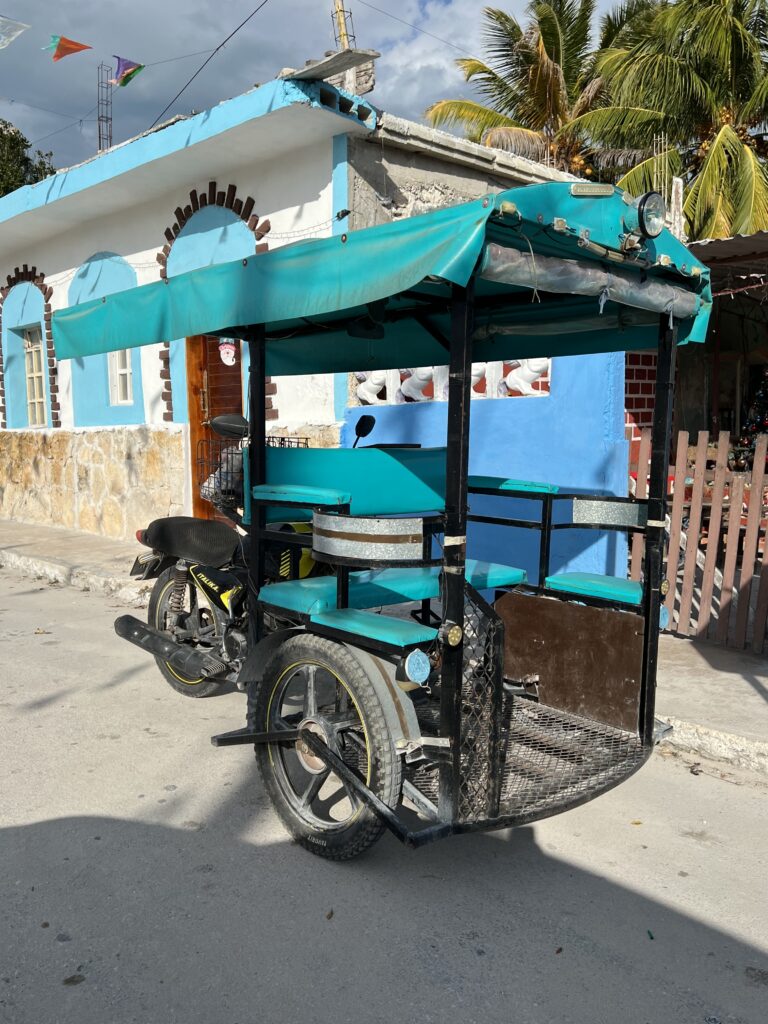 We headed off one bright sunny afternoon to the far west side of the peninsula, about 25km to the small pueblo of Churburná. We used an app to get a taxi for something like $20usd, thinking we would have no problem finding a return taxi when the night came to an end. The taxi dropped us in town, where we headed down to the beach to have a look around. The place we really wanted to be was another 3kms east & the shoreline didn't look completely passable. We walked back to the town square & decided to grab a snack. Guacamole & World Cup hit the spot as we regrouped on the plan. We decided to grab a mototaxi, a motorcycle with a metal framed sitting area attached to the front 😬 Pretty sure the driver gave us one price at the start & another at our destination 🤷‍♀️ We paid the the latter with the agreement (we thought) that the driver would come back for us just after sunset 🌅
This area had no services or facilities, it was just one long stretch of beautiful Mexican beach 🏖️ We spent the afternoon watching the pelicans dive bomb into the water & follow along with the returning fishing boats.
The sunset did not disappoint as the tide made its way up the beach.
As the light began to fade, we made our way back to our agreed upon meeting spot. You will be as shocked as we were to find our man never returned 🙄 3km, it's not that far. However it was a narrow, mosquito infested road that was growing darker by the minute. This is the point where you may begin to understand my mother's concerns 😉 With every passing car, I began to convince myself, I would just have to flag someone down & ask for a ride back to town. We walked past the fishing boat yard & I thought, we just need one of those guys to stop & we can jump in the back of a truck. You know, safety first! Two seconds later a pick up pulled over & a young guy motioned for us to climb in. Dave actually said, "Can you imagine what your mom will say when you tell her about this?!"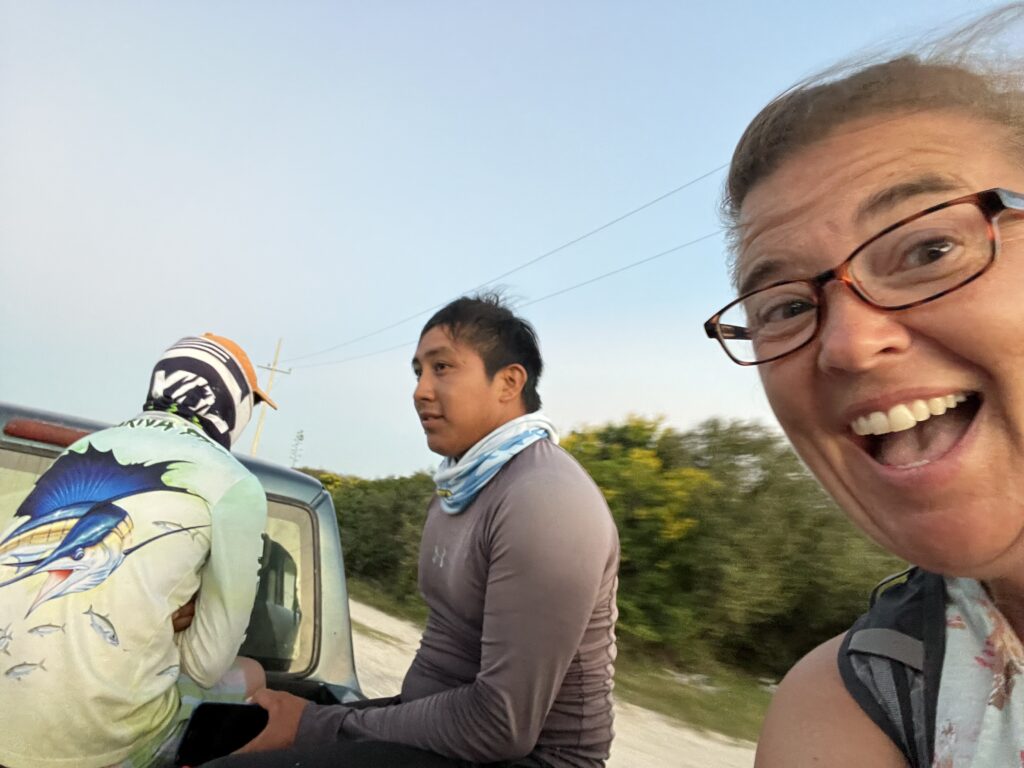 It was a short ride back to Churburná where they dropped us. We said our thank yous & goodbyes & they were on their way. I think we like to believe that all people are good & helpful, that doesn't mean we aren't paying attention to our surroundings. We headed back to our guac spot & tried to call a taxi. No joy. We also failed to remember & ask about the Colectivos, although that would have made for a pretty long night.
In a moment of brilliance or desperation, I decided to text our new found friend Paul. A little about Paul… Paul left his job amid the pandemic 😷 & chose to start a family business & turn his front courtyard into a quaint dining patio. Paul & his family work together to bring true Mexican flavor to the neighborhood. It doesn't stop with tacos 🌮 Paul drives folks around, rents bikes & scooters & pours into his community while loving every expat that stops by. He & many like him, that we have met along the way are why we come to Mexico 🇲🇽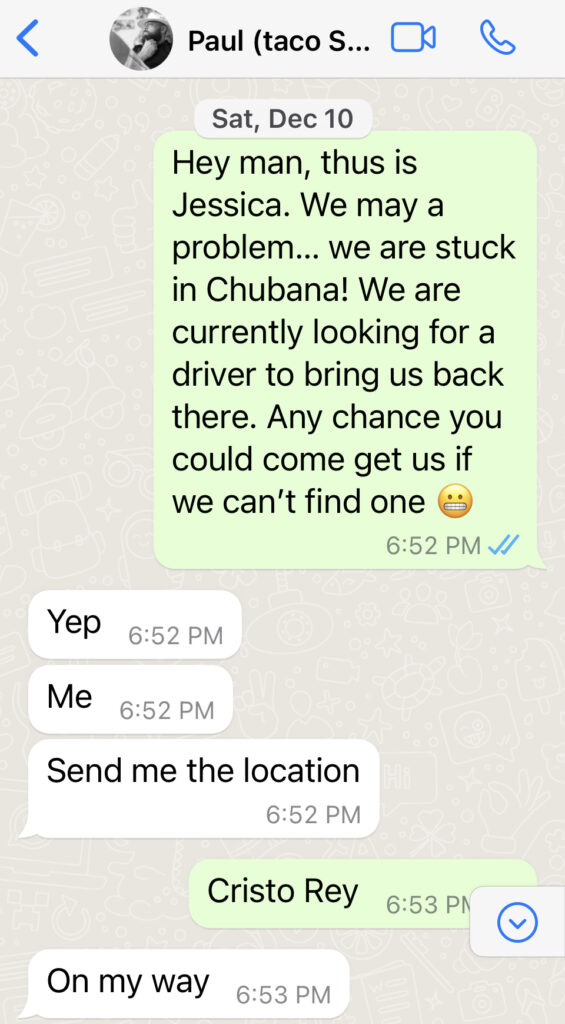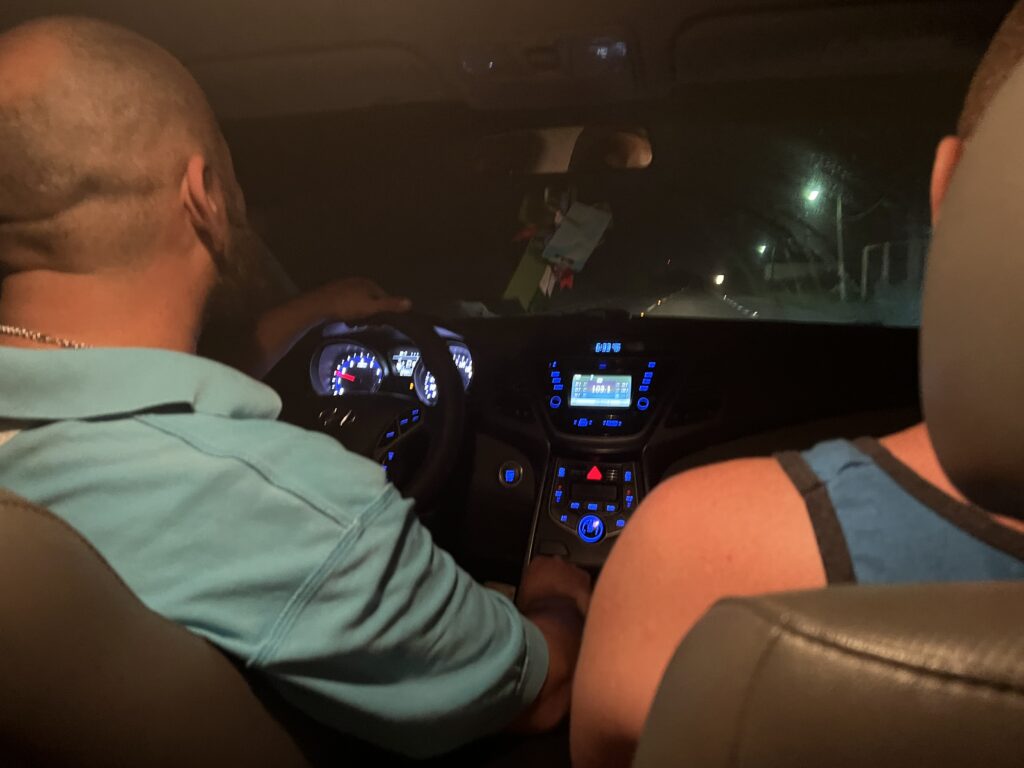 Thank God for WhatsApp! This would be the first time Paul would come to our rescue but not the last 😂
Paul would later help us rent a car & send someone to help us when we locked the keys in said rental car 🤦‍♀️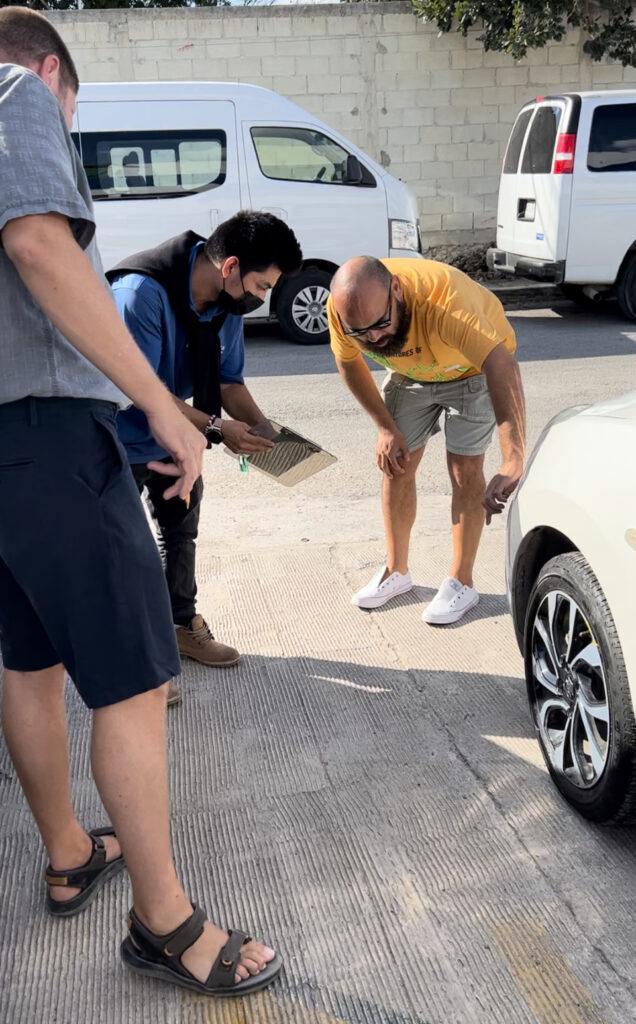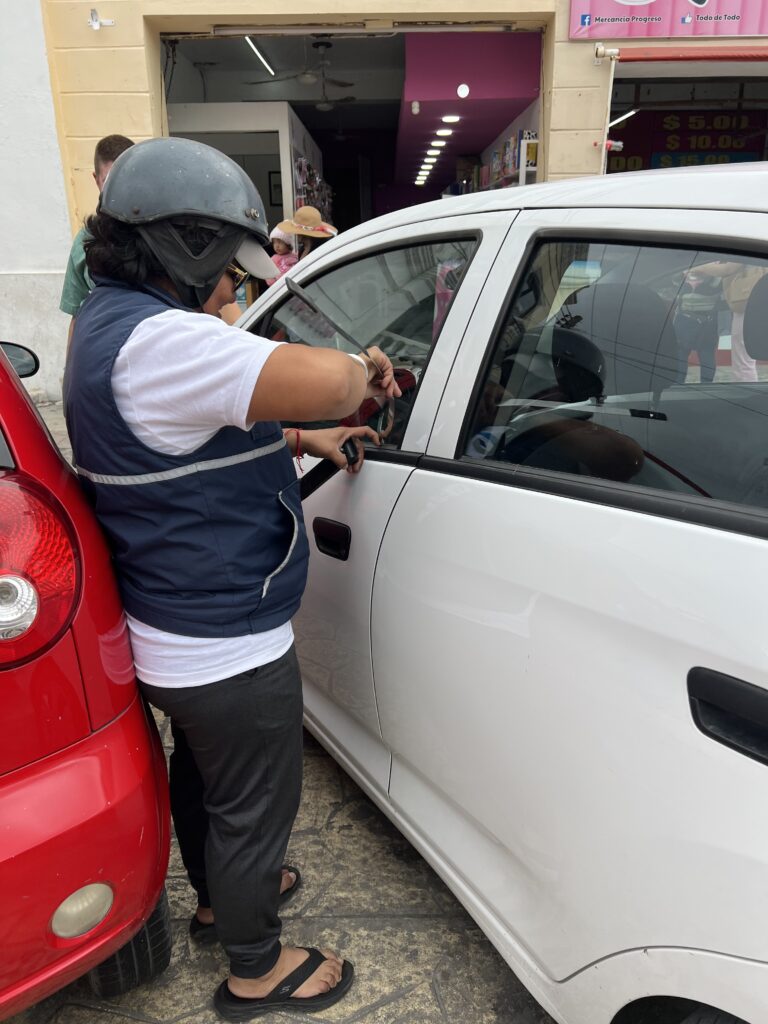 So as things tend to do, all worked out! We are safe, we are okay👌🏼 We ended up back in the area about a month later. It was great to see Paul again & laugh about the continuing predicaments we seem to get ourselves into. Fun times!